Introduction
We provide complete lithium ore roasting and acidizing production line with spodumene or lepidolite as raw materials, output 1000-20000 tons annual. It has excellent product performance, stable production condition and easy operation, which has received positive recognition from users.
With the rapid development of electronics, automobile, information and other industries, lithium, as the basic material for the production of secondary lithium salts and lithium metal products, has become the most important product in lithium compounds, and the market demand increases by 6% to 8% every year. In recent years, the application of lithium as cathode material of lithium ion battery, electrolyte, surface elastic wave element material is becoming mature, the added value of products is increasing, and the market demand is expanding rapidly.
Lithium (Li2CO3) Production Process with

Spodumene

as Raw Material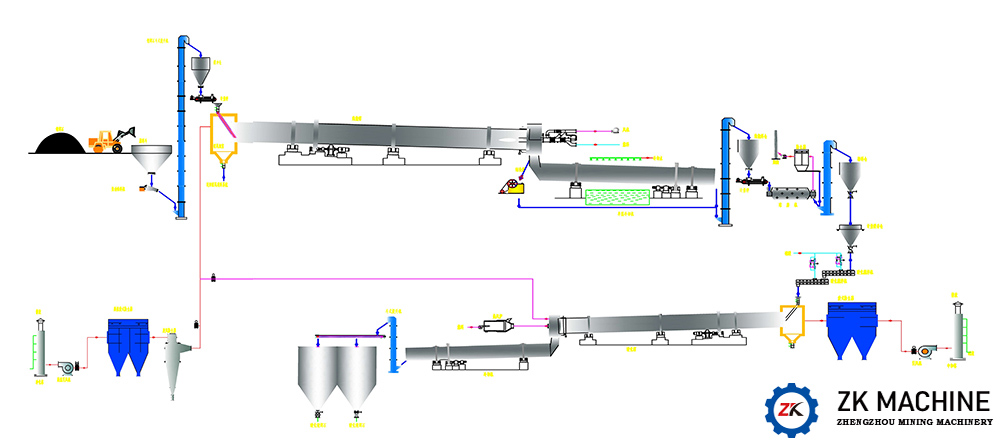 Lithium (Li2CO3) Production Process with

Lepidolite

as Raw Material

Features
1. The kiln body adopts a wireless temperature measurement and monitoring system, equipped with a remote intelligent variable speed kiln condition control system, which is convenient for production personnel to remotely adjust the kiln condition in real time.
2. High crystal conversion rate of raw materials, complete acidification, lithium leaching rate and lithium recovery rate are ~15% higher than traditional processes.

3. Utilize waste heat recovery at the kiln tail for acidification and heat supplementation, the energy consumption of the production line can be reduced by about 20%.

4. The cooling equipment adopts closed low-temperature cycle technology, and the dust blowing outlet is equipped with an annular air seal device. The production workshop has a certain position in the field of dust reduction and environmental protection, effectively improving the operating environment.