Introduction
We can provide technological solutions design and complete equipments fabrication for 50 TPD - 1200 TPD quicklime (active lime / hydrated lime) production line. We adopt the new type, energy saving and environmental system, through which fuel consumption can be reduced 40%, output capacity increased 30%.
Lime production line refers to the whole process of active lime produce. During all the lime production process, the rotary kiln production process is the most advanced one. Our production process adopt the rotary kiln with the vertical preheater and vertical cooler for the limestone calcination to achieve the production requirements of energy saving, environmental protection, the high activity.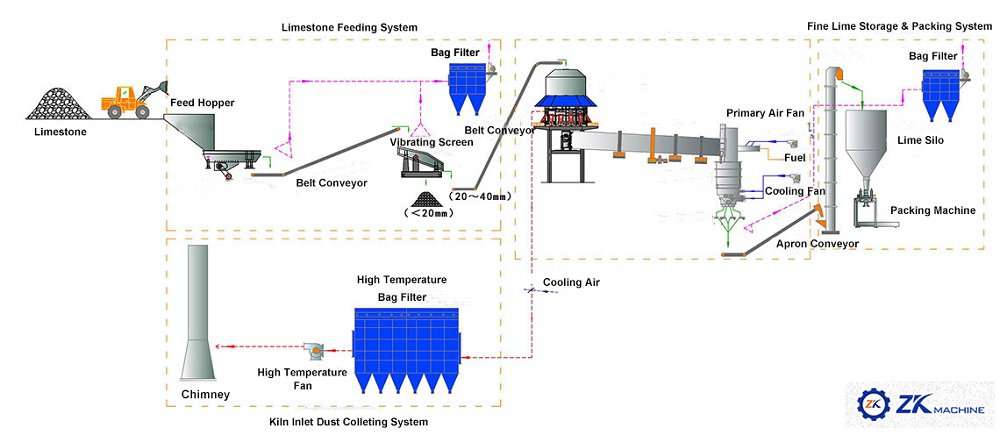 Process Flow of Lime Production Line

Step One: Raw Material Preparation
1. Limestone: The particle size of limestone should be between 10~40mm. The proportion of limestone size above 40mm or below 10mm should not be more than 5%. The maximum size should be less than 40mm.
2. Fuel:Furnace gas, gas, coalbed methane, pulverized coal could be used as fuel.

Step Two: Raw Material Feeding
Limestone in the plant yard will be carried by tractor shovel and fed to hopper, it will be discharged from hopper to vibrating feeder and sent to vibrating screen for screening through belt conveyor. The size ≥20mm will be sent to pre-heater by conveyor. And size less < 20mm will be carried away.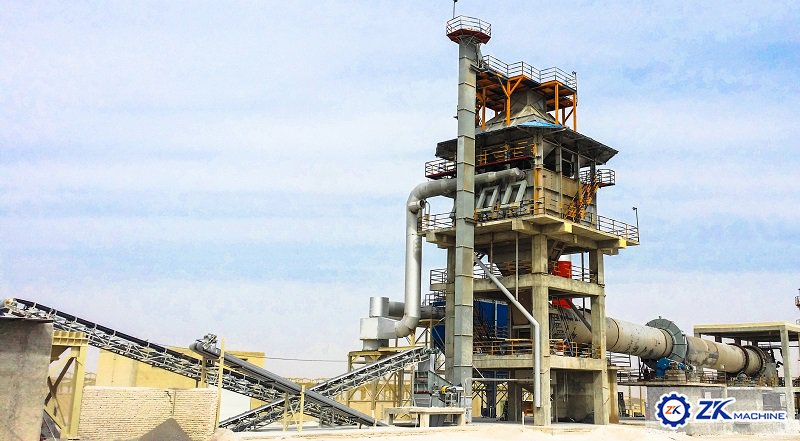 Step Three: Limestone Calcination
Limestone in the pre-heater will be preheated by the hot air, then it will be discharged to rotary kiln through chute that connecting pre-heater and kiln, it will stay in the kiln for 1.5-2 hours for calcination, during the process, it will be calcinated with temperature around 1300 ℃, after which comes limestone decomposition and release of co2,then the for mation of quick lime qill be completed.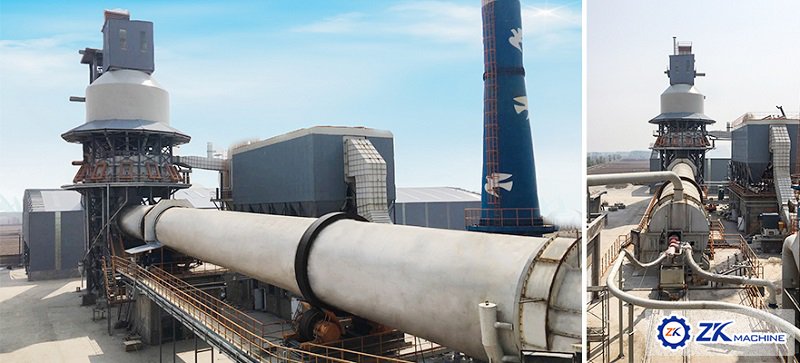 Step Four: Finished Products Conveying
Lime will be discharged to a chain conveyor by vibrating feeders in the bottom of vertical cooler, it will be lifted to lime in the storage hopper can be used for dispatch or transported to the hydration workshop.
Step Five: Dust Filtering System
There are two dust filtering systems, one is in the kiln inlet, dust will be filtered by bag filter then the clean gas will be released to air. The other is dust from lime storage hopper and the feeding part of bucket elevator, dust will be filtered by bags and then released to air.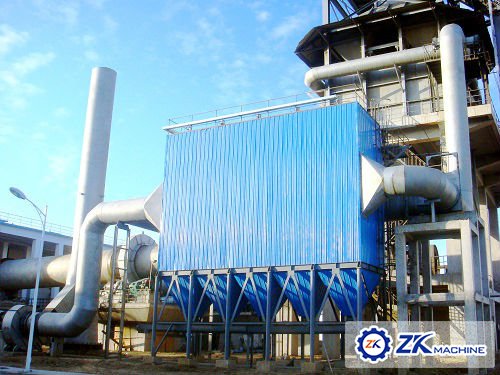 Features
1. Advanced Technology
The calcination process adopts pre-heater+ rotary kiln+ vertical cooler system, it can reduce the fuel consumption 40%, and increase output capacity 30% due to reuse the waste gas in the system.
2. High Automation Level
The Production line is arranged with temperature and pressure monitoring instrumentation, operating parameters of the computer display, the production line can adopt the advanced computer control, to achieve automatic operation of the entire system.
3. Mature Experience
We have professional engineer team, mature experience, and over 100 successful project cases from home and abroad, to maximize your investment costs and meet the customized solution demand.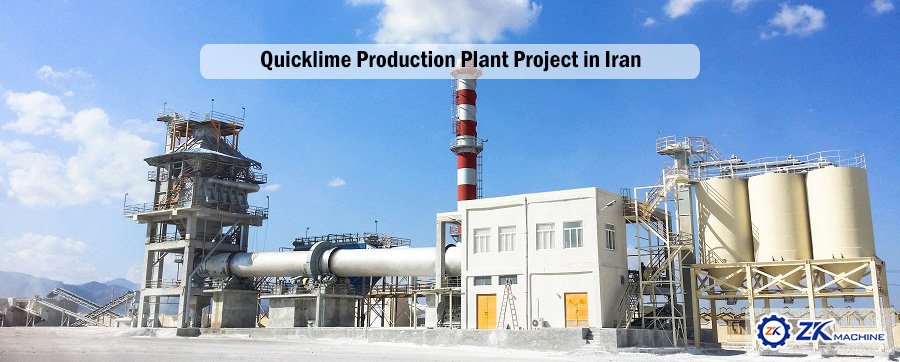 Parameter
Capacity

200t/d

225t/d

250t/d

300t/d

400t/d

500t/d

600t/d

800t/d

Preheater

Shape

Hexagon

Hexagon

Octagon

Octagon

Octagon

Decagon

Dodecagon

Dodecagon

Qty. of Top Silo

6

6

8

8

8

10

12

12

Qty. of Hydraulic Pusher

6

6

8

8

8

10

12

12

Preheating Capacity (t)

600

600

800

800

800

1000

1600

1600

Rotary Kiln

Size

Φ2.8×42m

Φ3.0×50m

Φ3.2×50m

Φ3.3×55m

Φ3.6×55m

Φ38×58m

Φ4×60m

Φ4.3×56m

Slope

3.50%

3.50%

3.50%

3.50%

3.50%

3.50%

3.50%

3.50%

Rotating Speed (r/min)

0.3-1.8

0.3-1.8

0.3-1.8

0.3-1.8

0.3-1.8

0.3-1.8

0.3-1.8

0.3-1.8

Calcination Temperature (℃)

1350

1350

1350

1350

1350

1350

1350

1350

Cooler

Type

Vertical

Vertical

Vertical

Vertical

Vertical

Vertical

Vertical

Vertical

Qty of Temperature Control Area

3

3

3

3

3

3

3

3

Qty. of Wind Tower

4+1

4+1

4+1

4+1

4+1

4+1

4+1

4+1

Size (m)

3.6×3.6

3.6×3.6

3.6×3.6

3.6×3.6

4.1×4.1

4.1×4.1

4.1×4.1

4.7×4.7

Output Temperature (℃)

≤120

≤120

≤120

≤120

≤120

≤120

≤120

≤120

Product Thermal Loss (kcal/kg)

5500

5400

5400

5400

5400

5400

5400

5000

Available Fuel

Coke oven gas, mixed gas, natural gas, coal powder, low heating value coal gas
Fuel Types:
Furnace gas as following conditions
| | | | | | |
| --- | --- | --- | --- | --- | --- |
| Name | Calorie value kJ/m3 | CO2+H2S % | CO % | H2 % | N2 % |
| Furnace gas | 5900 | 3~7 | 25~30 | 11~15 | 47~54 |
Gas as following conditions
| | | | | | |
| --- | --- | --- | --- | --- | --- |
| Name | Calorie value kJ/m3 | CO2+H2S % | CH4 % | CO % | N2 % |
| Gas | 33490 | 0.1~6 | 98 | 0.1~4 | 1~5 |
Chemical indicators of coal
Volatile%

Ash%

Coke

Adhesion
index

Sulfur content

%

Calorie value

(kCal/kg)

Ash melting point

℃

Coal

Raw Coal

>14

〈15

〈20

<6

〈20

〈1.8

>6000

>1200