Introduction
Our factory has a long history in design and build of specialized rotary dryers for processing coal slimes in coal preparation plants.
Coal rotary dryer
is one of the common drying equipment for coal, which can dry various kinds of coal, such as brown coal,raw coal, coal slime, coal ash, coal cinder, coal slurry etc. The coal rotary dryer is widely used in power plant.
The coal fines are feed into the dryer and conveyed from the inlet to the discharge end by gravity due to a slight decline, and with shovel plates that line the inside of the drum. Hot gas is passed through the rotating drum in direct contact with the coal fines.The feed is tumbled up and over the shovel plates to maximize the agitation and contact with the hot gasses to induce drying. The dryer fill level is typically only 10% of the internal diameter. The low fill level aids in agitation of the product to insure direct contact with the hot gas. Due to the agitation and gas velocities, there is a substantial entrainment of particulate in the exhaust gas. The gas flow in the rotary dryer is typically co-current with the feed. The moisture and particulate have to be removed from the exhaust gas.
It can dry the coal with moisture of 40-70%, and reduce the moisture to 8-12%.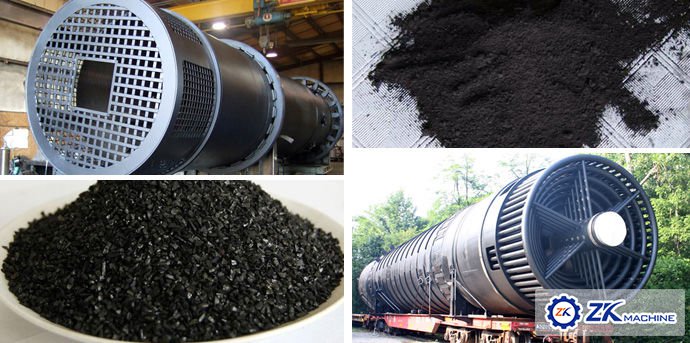 Features
1. Designed with high torque, high overloading capacity, low operation cost.

2. Concurrent drying to avoid possibility of ignition, higher evaporation rate due to hot combustion air and wet coal lime entering from the same side, lower exhaust air temperature and higher heat efficiency.

3. Operating parameters are adjustable to varied state of coal slime to ensure constant and stable cascade motion of material and increase heat transfer.

4. Upgraded feeding and discharging system to avoid possibility of feed clogging, interruptions, non-uniformity or reverting, and thus load of dust removing system is less.

5. Specially designed flight and breaking system further enhances its self-cleaning and heat transfer capability and outcome shell sticking problem, thus could handle varied materials with varied moisture content and viscosity (highly adaptable)

6. Output sizes and moisture is controllable according to each individual customer's demand. Dried coal slime moisture can be less than 8% and size below 8mm.