Introduction
Hammer Crusher
is a kind of impact and rotor crusher with ring hammers. When the material enters into the crusher, it will be crushed by the high speed ring hammer fistly. Crushed materials obtain kinetic energy from ring hammer at the same time,rush to the breaking plate with high speed,by the second break,then fell on the screen plate,materials is crushed further by cutting,pressure,grinding from ring hammer and interaction each other, discharged from screen.The sundries can not be crushed come into the metal collector,cleaning regularly.
Hammer crusher i
s used to crush kinds of medium and hard brittle materials. Such as coal, salt, sub white, gypsum, alum, brick, tile, limestone,etc
The compressive strength of the crushed material for the hammer crusher shall less than 150 MPa, and the humidity shall less than 15%.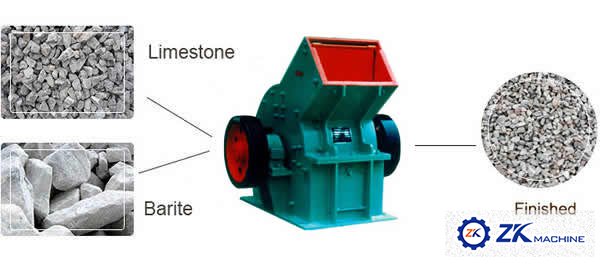 Features
1. The structure is simple and compact, the noise is low, the efficiency is high.
2. The installation is flexible, basically needs no foundation.
3.The rollers' surface adopts anti-abrasive welding rod or exchangeable dental plate, the maintenance is simple.
4.Self preservation ability is strong, the high hardness materials (such as all sorts of metal block) won't break the equipment's parts when they enter the shredding breach.
5. The discharge gram size is adjustable, the minimum can reach 2-10 mm.