Introduction
Vertical roller mill is a new type of grinding equipment, is an ideal device that integrates crushing, drying, grinding, and grading conveying all together. It features compact structure, low noise, high productively, low electrical power consumption and less metal loss.
The high and new technical vertical roller mill designed by our company, can be widely used in cement, metal, metallurgy, electricity, mining,chemical and other fields.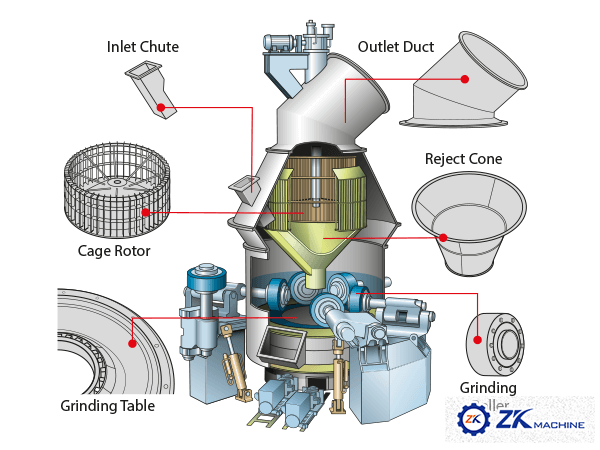 Features
1. We are professional producer of Raymond Mill in China.

2. Powder-saving and Higher Production Capacity (1-40T/H).

3. Smooth and Reliable Performance.

4. Fineness: 30—425Mesh (Adjustable).

5. Run for 1000 hours without Lubrication.

Parameter
| | | | | | | | |
| --- | --- | --- | --- | --- | --- | --- | --- |
| Model | Capacity (t/h) | Geometric diameter of grinding disc (mm) | Grinding disc track diameter (mm) | Raw material moisture (%) | Raw meal fineness (%) | Raw meal moisture (%) | Main motor power (kW) |
| ZKRM1300 | 20-25 | 1870 | 1300 | <10% | R0.08≤12% | ≤1% | 200 |
| ZKRM1500 | 26-34 | 2180 | 1500 | <10% | R0.08≤12% | ≤1% | 280 |
| ZKRM1700 | 40-50 | 2400 | 1700 | <10% | R0.08<12% | ≤1% | 400 |
| ZKRM1900 | 60-70 | 2680 | 1900 | <10% | R0.08<12% | ≤1% | 500 |
| ZKRM2200 | 85-110 | 2900 | 2200 | <10% | R0.08<14% | ≤1% | 800 |
| ZKRM2400 | 95-130 | 3140 | 2400 | <10% | R0.08<14% | ≤1% | 900 |
| ZKRM2800 | 120-160 | 3300 | 2800 | <10% | R0.08<14% | ≤1% | 1250 |
| ZKRM3400 | 190-240 | 4560 | 3400 | <10% | R0.08<15% | ≤1% | 1800 |
Note: Grindability of raw materials (bond) Index ≤12kWh/t。