Introduction
Rotary dryer is mainly used for the drying various materials.The material inside the rotary dryer has heat exchange with the high temperature flue gas through shell rotating and material lifting by lifter. The rotary dryer has many good characters like: high efficiency, big capacity, high running rate, saving energy, easy for maintenance, long working life. Variety angle of the lifter will increase the heating exchange rate and short drying time. Feeding and discharging unit is installed with thermocouple to control drier temperature. The temperature change of drier's feeding end can be indicated by the thermometer to control the inner drier temperature (generally 250-350°C)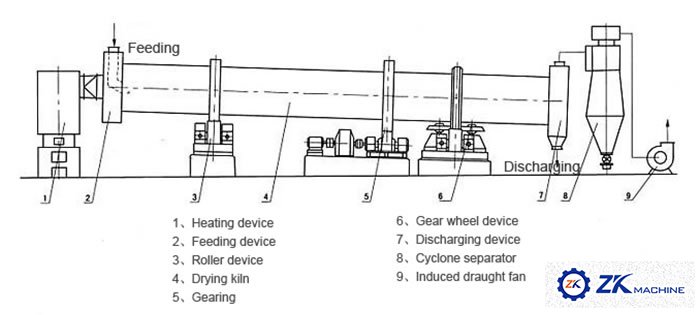 Application of Rotary Dryer
1. The rotary drum dryer made in our factory is mainly used for chemical, mining, metallurgy industry, like mineral, slag, coal, metal powder, clay, kieselguhr, kaolin, sand, lignite, slica sand...
2. The rotary drum dryer can used for agriculture and fertilizer industry, like straw, stalk, leaves, starch pulp, dregs of decoction, pomace, bagasse, slurry, organic fertilizer, inorganic fertilizer and others.
3. It also can used for drying the special materials, such as all kinds of crystalline, argil, magnetic powder, inorganic mud, lime slurry, aluminum mud, mineral mud and others.