Introduction
We can supply all kinds of spare parts for rotary kiln according to customer's requirement.

Support Roller
The Support roller is main used in rotary kiln / rotary dryer / rotary cooler and other rotation device, usually there are two sets or three sets support roller in one rotary kiln, there will be a set support roller with thrust roller when three sets support roller be used. The support roller bear all weight of device, so it made by quality cast steel, and rolling through a axis in the center of support roller.

Seals
A seal is essential at each end of a rotary unit to prevent ambient air from entering the process. Air leakage can have varying effects on different processes and a leaky seal may reduce efficiency, create unsafe or unstable conditions.
Seals are damaged most by overheating or by physical abuse. Overheating can occur because of insufficient cooling by fans or by insulating them from natural cooling. Physical damage is done by not cleaning seal discharge chute or by running the kiln too slow, causing spillback.
Each seal is designed for the kiln diameter, maximum runout, temperature, and pressure that it needs to isolate. There are many kinds of seals and each offer advantages in their application.
Kiln Tyre
Kiln tyre is also called riding ring, is one of the main parts of rotary kiln equipment. The kiln tyre can pass the all barrel gravity (include the gravity of refractory brick, internal device and material) to riding wheel, and make the barrel smoothly rotation on the wheel rotation, therefore the kiln tyre should have enough strength and durability. At the same time, kiln tyre strengthen barrel radial stiffness so it should has enough rigidity.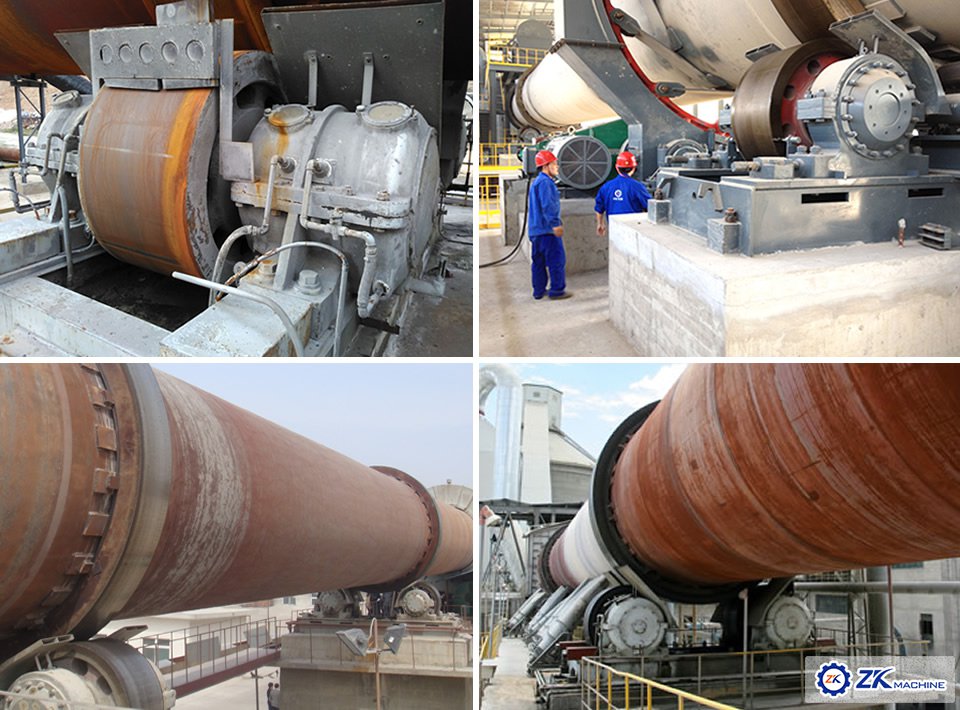 Features
Support Roller
1. Greatly reducing the manufacturing period by means of constant technological innovation;
2. Long service life better than the traditional supporting wheel
3. Strong resistance to deformation;
4. Cost-effectively
Seals
1. Our Seals are hands off, self-adjusting, and shell runout compensating
2. Reduced Seal maintenance, results in lower operating costs
3. Our Seals can be retrofitted to all existing Rotary Kilns, Dryers and Coolers regardless of manufacturer or application
4. Our seals show greatly reduced air leakage when compared to other conventional seals
5. Lower air leakage reduces power consumption and increases process efficiency
6. Our Seals increase the fuel efficiency of any operating kiln
7. Installation and replacement of our Seals is quick and simple, leading to lower maintenance costs
Kiln Tyre
1. High strength and good durability.
The kiln tyre of rotary kiln with ZG45 and ZG42CrMO materials can guarantee the strength and toughness, so as to support the barrel.
2. Used advanced double medium quenching process, has strong adaptability
The kiln tyre has high quenching hardness and toughness and uniformity material by double medium quenching. It can be used to all kinds of bad working environment because of good wear resistance.
3. Simple structure and easy to adjust and repair.