Introduction
Desulfurization gypsum dryer, also commonly known as carborundum powder dryer or gypsum powder dryer, is composed of heat source equipment, drying equipment, transmission parts, transportation device, dust removal plant, wind system, electronic control equipment and other several parts.
Desulfurization gypsum dryer is applied for producing gypsum building materials for various purposes,which is widely used in building materials industry.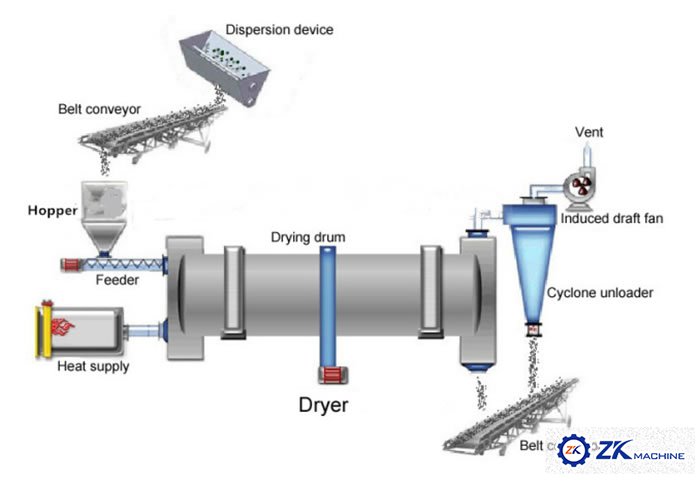 Features
1. Desulfurization gypsum dryer has strong overload capacity, large processing capacity, less fuel consumption, low drying costs.

2. The dryer adopts downstream drying method. The flue gas and wet material get into the drying machine by the same side , which can take advantage of the high temperature flue gas to obtain high evaporation strength,moreover, the outlet temperature of the drying machine is low and the thermal efficiency is high.
3. Desulfurization gypsum dryer can change operation parameters according to the different material properties.The material in the dryer cylinder body can form stable whole material curtain and the heat exchange will be more adequate.
4. New type of feeding and discharging device put an end to the problems of feeding jams, discontinuous feeding and uneven feeding, reducing the load of dust removal system
5. New type of internal structure strengthens the cleaning and heat conduction effect on scattered material, which makes the coal slime dryer have stronger adaptability to the material water content and stickiness.
6. Desulfurization Gypsum Dryer achieves the "zero thrust", greatly reducing the wheel wear, realizing the smooth and reliable operation.
7. Desulfurization gypsum dryer adopts "self-aligning roller device", making the linear contact between wheel and roll ring, thus it greatly reduces the wear and power consumption.

8. It can control product granularity and moisture according to users'requirements.