What are the requirements when installing the ball mill?
Date:2017-11-16 13:33
Author:ZK Corp.
Views:
When installing ball mill, the basic requirements are as follows:
1. The foundation must extend to the stable and solid basement;
2. The foundation should be able to withstand the static load and the vibration load generated during the operation of the ball mill;
3. The foundation should have a sufficiently large volume and chassis;
4. Base chassis should be separated from the factory pillar chassis, at least 50mm apart;
5. Basis weight should be 1.5-2 times greater than the weight of the ball mill.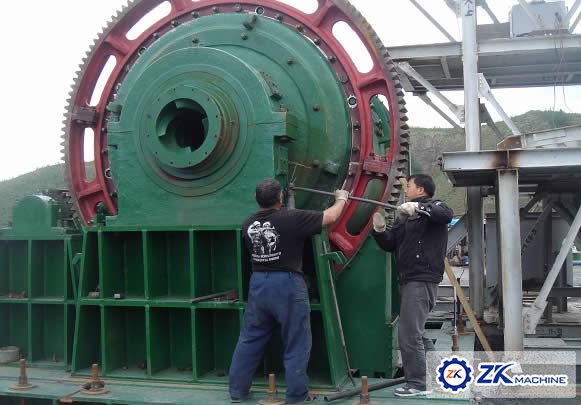 What is methods of operation to install pinion ball mill?
1. Clean the pinion, pinion bearing, bearing seat, refinish the bearing after cleaning, fasten the cap screws. Check the reducer and auxiliary reducer chassis is clean, after cleaning, and apply oil. Check the length of the coupling and check if the coupling in reducer output shaft and pinion shaft are in place.
2. Clean up the foundation and foundation holes.
3. Draw a reducer, motor, auxiliary drive mortar pier, according to the the height of the drawing.
4. Place the pinion together with the bearings and bearing seat. At the same time the motor, reducer, auxiliary drive is also hoisting in place.
5. Measured one by one according to the position of the centers of the drawings given size, height and level requirements steel dipstick, steel ruler, and so on; Adjust through jacks, sledgehammers, horns, etc. to meet design or specification requirements.