Screen surface types of vibrating screen machine
Date:2017-11-14 13:21
Author:ZK Corp.
Views:
Screen surface is the most important part of the screening process to withstand sieve material. The basic requirements of the screen surface is: have sufficient mechanical strength, the largest open-hole rate (the total screen area and screen area ratio), the mesh is not easy to block, more chance for the mesh to meet the material moves. The former requirement affects the service life of the screen surface and the latter three requirements relate to the screen effect.
Screen surface to be fixed on the screen frame. Different screen surface, the fixed method is also different. Only the screen surface firmly fixed in the screen frame, in order to ensure the normal operation of the screen surface. Otherwise, not only can not guarantee the screening effect, but also shorten the life of the screen surface. Screen surface can be divided into the following types: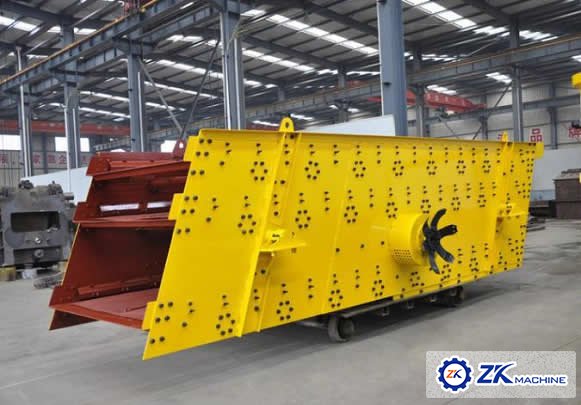 1. Plate-shaped screen surface is one of the most solid screen surface, mainly for screening large pieces of material. Most of the material of the plate sieve surface uses A3 and 16Mn, 16MnCr and other steel plates, and the commonly used steel plate thickness is 6mm. Depending on the working conditions, thickening or thinning may be appropriate.
2. Braided screen surface is made by metallic line mesh.
3. Slit screen surface is made of copper or stainless steel. The price of sliver stainless steel screen surface than copper screen surface high 2 to 3 times, but its strength, wear resistance, service life is also higher than the copper screen surface 2 to 3 times, and work well. Therefore, in order to reduce maintenance workload, improve the screening effect, the use of stainless steel strip screen surface is more favorable.
4. Bar screen surface by the parallel arrangement of many steel bars. The size of the mesh on the screen surface is determined by the width of the gap between the bars.
5. Non-metallic screen surface materials used are natural rubber, flexible plastic, and nylon. It can not only save copper and stainless steel and other high-quality metal materials, but also anti-wear, anti-breaking ability, long life, low noise, is the direction of the development of the screen surface.
Henan Zhengzhou Mining Machinery Co.,Ltd is a professional manufacturer of vibrating screen, it can be widely applied in stone, ore, coal, metallurgy, construction materials, chemistry industry an so on, sincerely welcome your inquiry.
Previous:Important notes when stop the rotary kiln
Next Page:Characteristics of calcining system of lime rotary kiln
You can get the price list and we will contact you within one business day!