Introduction
Ball mill is mainly used for grinding in mining (metallic minerals and non-metallic minerals), cement, refractories, chemical, power plant, aluminum ,building material, ceramic, steel slag and fly ash, ect. It follows more crushing and less grinding principle to save energy. The feed size to ball mill shall be smaller than 25mm, the output size can be adjusted by revising steel balls ratio.
Applied materials: copper, magnetite, molybdenite, zinc ore, iron ore, gold, hematite, fluorspar, lead & zinc, manganese, tungsten, marble, granite, slag, cement, limestone, clinker, coal, etc.
Different Types of ball mill designed by ZK Corp:
1. By Grinding Types: Wet Type Ball Mill & Dry Type Ball Mill
2. By Discharging Methods: Lattice Type Ball Mill &
Overflow Ball Mill
3. By Installnation Methods: Horizontal Ball Mill &
Vertical Roller Mill
4. By Cylinder Types: Tube Type Ball Mill &
Cone Ball Mill
5. By Grinding Media: Steel Ball Mill
6. By Sizes:
Small Scale Ball Mill
, Medium Sizes Ball Mill, Large Type Ball Mill
7. By Grinding Material:
Cement Mill
,
Air Swept Coal Mill
,
Ceramic Ball Mill
,
Raw Mill
,
Gold Ore Mill
,
Slag Ball Mill
,
Rod Mill
, etc.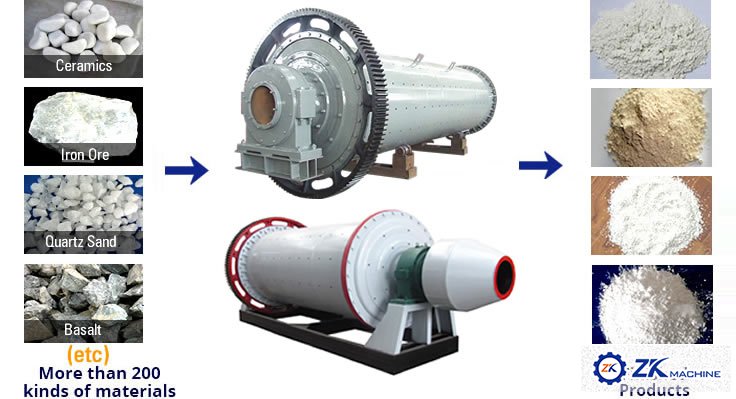 Our Service:
Packaging & Delivery

Technical Support

Successful Cases

Features
1. Large capacity and continuous work are obvious advantages;
2. Various barrel lining and grinding media, excellent corrosion resistance;
3. Large capacity and crushing ratio; High grinding efficiency, low energy consumption;
4. Large application range, simple structure and convenient maintence;
5. Good sealing performance. It can be adapted to different working conditions;
6. Product fineness is adjustable, uniform and high qualified.
7. Installation and adjustment are very convenient and easy to operate.