1000 TPD Stone Crushing Plant Project in Tanzania
Brief Introduction
Production Capacity: 1000 TPD
Processing Materials: stone
Project Location: Tanzania
Processing Advantages: crushing ratio, uniform discharge, low impurity content, wear resistance, and low energy consumption, environmental protection, the user's recognition is very high.
Main Equipment: Vibrating Feeder, Compound Crusher, Impact Crusher, Round Vibrating Screen, Rod Mill Sand Making Machine, Belt Conveyor and Centralized Electric Control Device.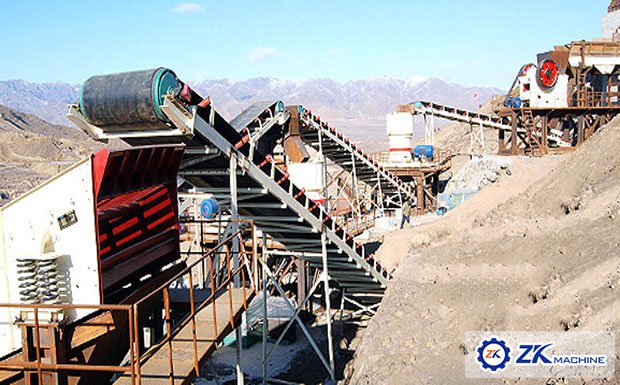 Project Introduction:
The stone production line configured by our company has reliable performance and stable operation, especially the easy operation, simple maintenance. The large stones are evenly and quantitatively conveyed by the vibrating feeder through the silo, and are continuously conveyed into the compound crusher for crushing. The crushed stone is transported by the conveyor to the crusher for further crushing; the crushed stone is conveyed by the conveyor into the round vibrating screen for screening, screening out several different specifications of stone. Qualified finished product will be conveyed by the conveyor to the finished product pile. Unqualified stone will be conveyed to rod mill type sand marking machine for fine grinding, forming a closed loop multiple cycles.
Customer Analysis: Users ordered a complete set of stone processing production line. The feed out of this production line is very fine material. Especially in the stone processing operation, it is extremely stable, and will not appear any noise, and the function is sound and powerful. To some extent, it can also reduce the user's difficulty of use, operating reliability is very strong, so this is a higher configuration, excellent quality, excellent performance production line.
Henan Zhengzhou Mining Machinery Co., Ltd produces a variety of mining equipment. According to the type of material and the region to a reasonable allocation of production lines, we have calcination production lines, powder milling production lines, mineral processing and cement production lines. Each production line can be tailored to users' needs and ensure that the production line to create a high return profit.
Related Products
You can get the price list and we will contact you within one business day!