Introduction
Powder Separator is high-efficiency dynamic classifier of the third generation, which has been widely applied in the powder grinding system of the cement companies. The improved O-Sepa classifier is a kind of high-efficiency classifier developed on basis of the technology of common O-Sepa classifier and using the most advanced technology in the world.
The rotor blades of special shape replace the rotor blades of the normal shape, which makes the classifying area of the classifier increase, with higher classifying efficiency of materials and better classifying effect in practice.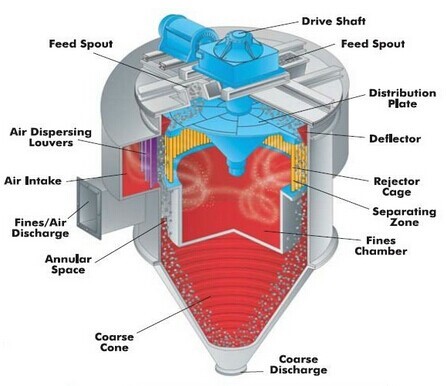 Features
1. Avoid the pressure drop generated by the vortex to lower the pressure drop of the classifier.

2. Transfer the energy produced due to airflow rotation to the rotor, thus reducing the drive's power consumption and avoiding the energy consumption generated by the vortex at the same time.

3. The tangential velocity at the classifier outlet is reduced due to the use of the vortex scrambler and moreover the wear and tear is reduced.

4. The distribution of finished particles is more uniform, while the particle size ratio is more reasonable