Introduction
We have complete set of process technology and core equipment R & D and manufacturing technology in the field of gypsum powder production line. We supply the whole plant equipments and service, if you are planning to start this project, we can be your help, please feel free to send us inquiry!
Working Process:
The industrial by-product gypsum is fed into the steam tube bundle calcining kiln through box feeder, belt conveyor, vibrating feeder and other conveying equipment, and then calcined under 240 ℃ supersaturated steam; The calcined products are sent to the cooling bin for cooling through conveying equipment such as screw conveyor and plate chain elevator; The cooled semi-finished products are sent to the ex-grinding bin through screw conveyor, belt conveyor, plate chain elevator and other conveying equipment, and then sent to the ball mill for grinding after metering; The milled finished products are sent to the finished product warehouse for storage; After the finished product warehouse, a packaging machine can be set for packaging and sale, or the powder material can be directly transported by bulk truck to customers.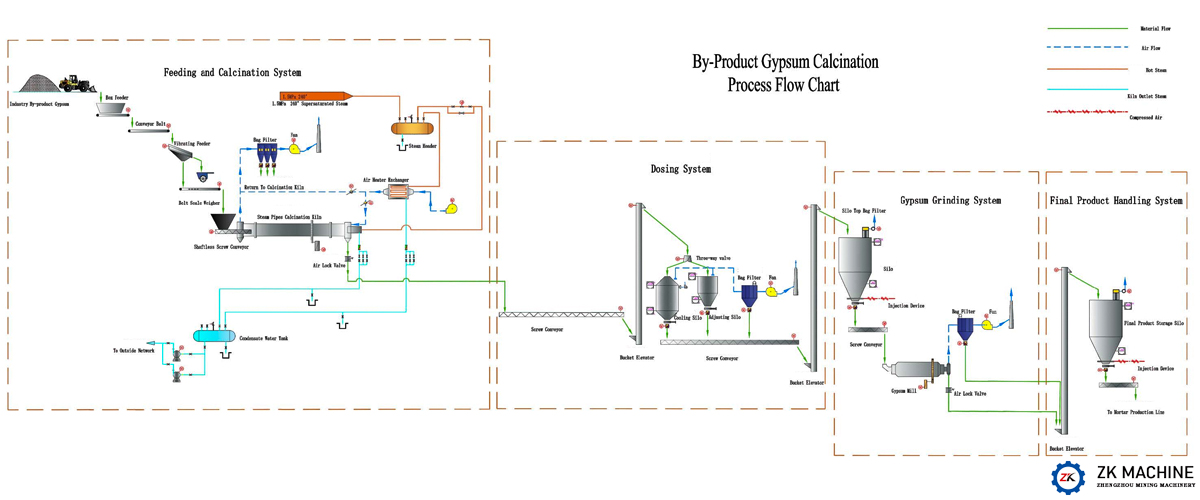 Features
According to the product use, by adjusting the rotary kiln speed and steam consumption, the initial setting time of gypsum powder can be adjusted and controlled.
1. The gypsum rotary kiln pipeline contains high-pressure steam, adopts low-temperature and slow-speed heat exchange, has a large heat exchange area, and the temperature of the heat exchange medium is more constant, and the calcination process is easier to control.
2. The gypsum rotary kiln has large volume, large processing capacity, more sufficient drying and calcination, and more stable products.
3. The one-step method simplifies the process, and the drying and calcination are continuously completed in the same equipment, and the control is simple, and the supporting equipment and control links are reduced.

Parameter
Main Equipment Configuration Table
Capacity(wt)
5
10
15
20
25
30
40
50
Main Equipment
Main equipment models, and technical & economic index
Rotary Kiln
Ø2.0×24m
Ø2.4×24m
Ø2.8×26m
Ø3.0×26m
Ø3.2×26m
Ø3.4×28m
Ø3.6×28m
Ø4.0×28m
Plaster Mill
Ø1.2×4.5m
Ø1.5×5.7m
Ø1.83×5.5m
Ø2.1×6.5m
Ø2.2×6.5m
Ø2.4×7m
Ø2.4×8m
Ø2.6×8m
Bag Filter
PPC96-6
PPC96-8
PPC128-6
PPC128-9
PPC96-2x9
PPC128-2x7
PPC128-2x9
PPC128-2x12
Production Raw Material Requirements
calcium sulfate dihydrate content (dry basis) ≥90%, adhesion water content≤15%, water-soIubIe magnesium oxide (dry basis)≤0.5% PH vaIue 6-8 , chIoride ion content (dry basis)≤500mg/kg
CaIcination Temperature/"C
150
Energy Consumption lndex/(kg/t lime)
500±50
Power Consumption lndex/(kw•h/t lime)
25±5
Desulfurization Gypsum: Gypsum Powder
1.4:1
Setting Time
Initial solidification≥8min, termination of solidification≤30min
Fineness
≤5%
Strength (Mpa)
2 hours flexural strength≥3.0M Pa; compressive strength≥6.5MPa;
Three-phase Control
Dihydrate gypsum is less than 3%, hemihydrate gypsum is greater than 84%, and soluble anhydrous gypsum is less than 3%;
mission Concentration / (mg/m3)
≤30
Annual Working Day / days
≥300
Overhaul Cycle/Year
3
Applicable Fuel
Steam, natural gas, pulverized coal
Note:this configuration table is for reference only and varies according to customer requirements